In recent years, CMA has gained popularity as a career choice among students in the 12th grade. The high CMA salary is the main justification. The ICMAI campus placement offers an average CMA salary in India of Rs 10 lakhs annually. A 30% increase in the packages provided to newer CMAs has also been observed this year.
The job profile, location, area of specialization, and industry in which they operate are just a few of the variables that affect a cost and management accountant's pay. If you have further CA or CFA degrees, you might even make up to 15-20 lakhs rupees annually. You can learn more about the starting, average, and maximum CMA salaries in India in 2023 in this post. You can also look at the employment roles, the best industries for CMAs to work in, and the breadth of each.
CMA Average Salary in India

The average CMA pay in India is Rs 10 lakhs per year (or Rs 83000 per month), with salaries ranging from Rs 3 lakhs to Rs 40 lakhs. The yearly wage is based on the 500 newly chosen CMAs who will be placed on the ICMAI campus in 2022.
In addition, the highest salary offered to a new CMA during off-campus postings is Rs. 27 lakhs annually. A CMA's highest annual compensation can reach up to Rs 55 lakhs with experience and knowledge.
The table below mentions the CMA salaries in India on an annual and monthly basis in 2023:
| | | |
| --- | --- | --- |
| Particulars | CMA Salary per Annum | CMA Salary per Month |
| Starting Salary | Rs. 6.5 Lacs | Rs. 54,000 per month |
| Least Salary | Rs. 2 Lacs | Rs. 16,000 per month |
| Highest Salary of Fresher | Rs. 22 Lacs | Rs. 183,000 per month |
| CMA Average Salary in India | Rs. 10 Lacs | Rs. 83,000 per month |
| Highest CMA Salary | Rs. 55 Lacs | Rs. 458,000 per month |
Your compensation will also be impacted by the number of times you need to take the CMA course, the time it takes, and the rank you get (if you do). So make an effort to pass the CMA Final examinations with a rank on your first try.
How much does a CMA Earn Abroad?
In response to the demand on the market, countries all over the world pay accountants enormous salaries. The annual compensation for a CMA working abroad is $85,000.
Are you wondering if a CMA can make crores?
After that, the numbers become clear. In management jobs, a CMA with experience can earn up to $125,000.
A Certified Management Accountant typically makes more money and receives a variety of benefits than a standard accountant, especially in the USA. Additionally, CMAs receive more attractive pay offers than non-CMAs and have more opportunities for progression in senior financial management positions.
CMA Salary in India Based on Different Factors
Cost management accountants' pay is based on a variety of criteria, including their position, location, industry, level of experience, and employer. You will learn about a CMA's earnings based on many aspects in the section that follows.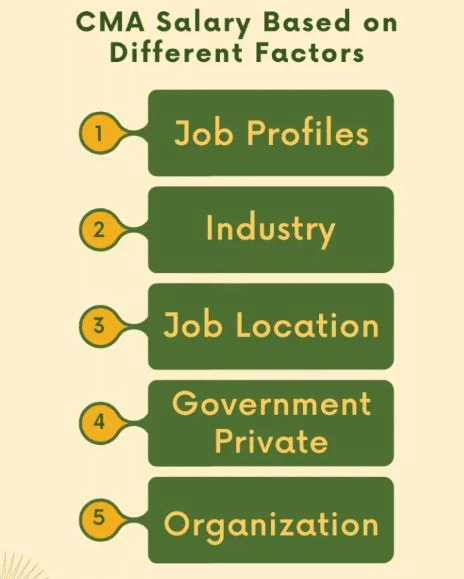 Cost Management Accountant Salaries for Different Job Profiles
The CMAs' salaries vary depending on their job descriptions. You can see a CMA's salary for various job descriptions in the table below.
| | |
| --- | --- |
| Job Role | Average CMA Salary |
| Financial Analyst | ₹5.45 Lacs |
| Senior Financial Analyst | ₹7.73 Lacs |
| Finance manager | ₹11.22 Lacs |
| Senior Finance manager | ₹20.48 Lacs |
| Chief Financial Officer | ₹36.33 Lacs |
| Accountant | ₹3.08 Lacs |
| Cost Management Accountant | ₹05 Lacs |
The different job profiles for Cost and Management Accountants are:
Financial Analyst – They are crucial in assessing potential capabilities and financial value as well as monitoring the business's financial performance. In the company, they hold both junior and senior positions.
Finance Manager – The finance manager's responsibility is to direct the organization's financial operations.
Chief Financial Officer – One of the main positions in the firm is that of CFO. They are regarded as the CEO's right hand. Their responsibility is to closely monitor financial reporting and projections.
CMA – The duties of the CMA include providing financial services such as costing, certification, and record-keeping for taxes and costs, as well as pricing items.
Cost Accountants – They are responsible for analyzing and documenting each profit and expense an organization makes.
CMA Salary Based on Industries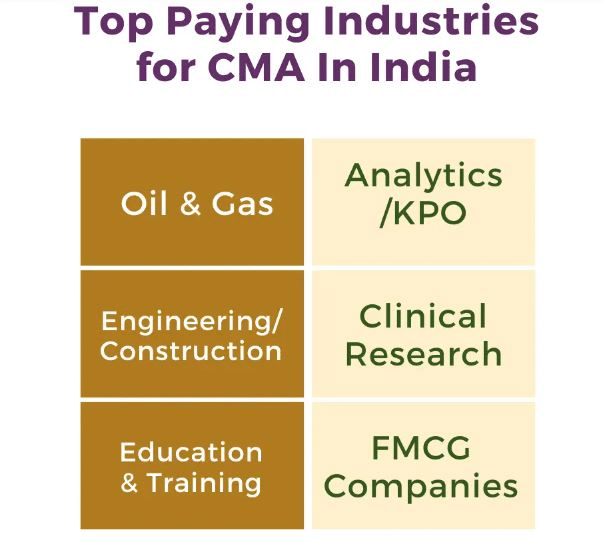 Every sector offers unique CMA packages in India and distinct career prospects. Here are the top industries in India that are paying the CMAs, even though standards have altered since the pandemic:
| | |
| --- | --- |
| Industry | CMA Salary |
| Oil & Gas | ₹ 19 Lakhs |
| Engineering/Construction | ₹ 7.8-8.5 Lakhs |
| Education & Training | ₹ 6.3-8.1 lakhs |
| Clinical research | ₹ 3.9 Lakhs |
| Analytics/KPO | ₹6.6 Lakhs |
| FMCG companies | ₹ 5.7-7.3 Lakhs |
| Financial Services | ₹3.5 Lakhs |
| IT services & consulting | ₹ 10.1 Lakhs |
The United States is the first nation that comes to mind when we discuss other countries. As shown below, the CMA salary in the USA varies depending on the industry:
| | |
| --- | --- |
| Industry | CMA Salary in USD |
| Educational Industry | $103000 |
| Medical | $94500 |
| Retail and wholesale | $106000 |
| Finance | $90000 |
| Manufacturing | $100000 |
| Government Sector | $94500 |
| Public Accounting Sector | $85500 |
Average Salary of CMA in Various Countries
A CMA's workplace has a major impact on their salary. The Middle East and the USA are where CMA is most common despite the fact that over 100 nations now recognise it as a profession. The United States is the best place to work as a CMA because the average pay for employment after completing the course is very high there.
Now, let us check various top-paying countries for Cost Management Accountants:
| | |
| --- | --- |
| Country | CMA Average Salary |
| USA | USD $109,119 |
| Dubai | USD $111,000 |
| Canada | USD $100,000 |
| United Kingdom (UK) | USD $69,426 |
| European countries | USD $81,403 |
| Asian countries | USD $40,354 |
| The Middle East | USD $40,722 |
You will earn more money working in an economically developed country with a sizable market for CMAs than you would in a developing country with little demand for CMAs.
Consider each country's cost of living and benefits before determining where you want to live and work. Make sure to weigh all of your options because this will be your most important career decision before deciding.
Average CMA Packages in Different Cities of India
The location of the employment determines the CMA salary in India. The average salary in India is determined by a number of variables, including the city's cost of living.
The below table mentions the salaries of CMA in different cities:
| | |
| --- | --- |
| Indian Cities | Salary Per Annum |
| CMA salary in Mumbai | ₹2.5-14 Lacs |
| CMA salary in Kolkata | ₹6-10 Lacs |
| CMA salary in Bangalore | ₹6-9 Lacs |
| Kerala | ₹6.5Lacs |
| Jaipur | ₹3-6 Lacs |
| Delhi | ₹6.5 Lacs |
CMA Annual Package in Government Jobs
Government positions are also open to cost management accountants. The CMA pay offered by public sector entities is as follows:
| | | |
| --- | --- | --- |
| Government Companies | Job Profile | CMA salary |
| NAFED | Manager of Accounts | ₹6.5 Lakhs |
| Regional Centre for Biotech | Senior Accounts Assistant | ₹8.5 Lakhs |
| IWAI | CFO | ₹12 Lakhs |
Average CMA salary in India in Top Private Companies
The CMA salary in India in Big 4 firms is ₹10.5 Lakhs per annum.
| | | |
| --- | --- | --- |
| Private Companies | Job Profile | CMA salary |
| Hyundai Steels | Senior Cost Accountant | ₹8.5 Lakhs |
| Malabar Gold & Diamonds | Costing manager | ₹6 Lakhs |
| Kanodia Global | Cost Accountant | ₹7 Lakhs |
CMA Internship Training Salary in India
As per the ICAI rules, the minimum CMA training stipend or salary every organisation has to pay is:
| | | |
| --- | --- | --- |
| Employer | Practising CMA / CMA Firm | Corporate/Organization |
| Year – 1 | Rs. 2,000 | Rs. 8,000*/Rs. 10,000** |
| Year – 2 | Rs. 3,000 | Rs. 10,000*/ Rs.12,500** |
| Year – 3 | Rs. 4,000 | Rs. 12,000*/Rs. 15,000** |
** Metropolitan and 'A' Grade Cities
* Other Places
Working Role of a Cost Management Accountant
As a CMA, he is in charge of monitoring the business's finances, including revenue and outgoing costs. He may work for public, private, or governmental organisations.  Strategic planning, decision-making, budgeting, keeping track of finances, and data preparation are daily responsibilities of CMA.
The various roles of a CMA are:
Cost Management – The planned budget is their responsibility to manage and oversee. They support firms with their expenses, keep them under control, and lessen the chance of going over budget.
Performance Management – Evaluating and improving the firm's performance in the market after analysing the financial sector. Their responsibility is to distribute tasks in accordance with the organisational framework.
Internal Control – They are in charge of guaranteeing fiscal responsibility and integrity and combating fraud. The CMA's responsibility is to oversee compliance with rules and regulations and prevent staff members from stealing or engaging in fraud.
Analyse Profitability – It is the responsibility of CMA to carry out analyses using particular ratios. By dividing equivalent values or profits by assets, expenses, and revenues, they arrive at profitability. It is essential to understand profit margin, equity return, asset return, and capital return.
Investment Decision – Additionally, they are in charge of making financial choices and directing money to investment and business prospects. It is their responsibility to search for investment proposals that will long-term benefit the business while evaluating any potential risks and degree of uncertainty associated with the project.
Areas for Recruitment for CMA
Worldwide and particularly in India, demand for CMAs is rising quickly. Due to their expertise in their fields, the majority of organisations want to hire them. CMAs work in a variety of disciplines and sectors. Several of the booming businesses include:
Finance
Research
Management
Accounting
Various Types of CMAs in India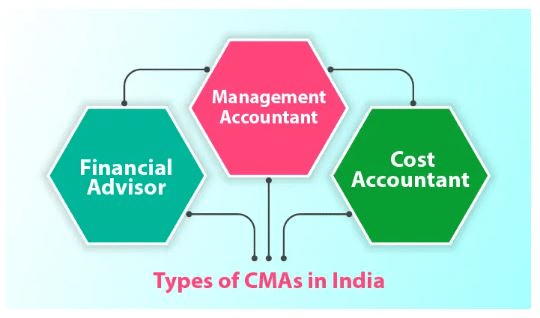 Students can choose from a variety of subdisciplines to qualify as management accountants. For college students, a career as a cost management accountant is an excellent choice. The following is a list of the sub-disciplines that make up a career as a cost management accountant.
1. Financial Advisor
The responsibility for ensuring the financial feasibility of suggested investments is on the financial manager. He is also in charge of doing financial analysis and research that sheds light on a company's profitability, stability, and liquidity as well as advising firms on the issuance of corporate bonds.
2. Management Accountant
For a career as a CMA, the management accountant is a crucial subspecialty. Students must possess planning and strategic skills to succeed in this field. However, budgeting, planning, and strategic thinking skills will be necessary for accountants. Additionally, it will support management in deciding on long-term financial strategies for the company.
3. Chartered Accountant
A valued profession, chartered accounting is similar to cost management accounting. It is also one of the most well-known occupations in India. The job entails drafting business tax returns, analyzing financial accounts, and giving financial advice.
4. Cost Accountant
A cost accountant's job is to keep track of and evaluate all expenditures made by a company. This enables the company to identify the areas where losses are occurring and improve its financial management.
5. Chief Financial Officer
Everyone would aspire to have the esteemed position of chief financial officer. A successful businessperson could be regarded as the CEO's right hand. The CFO is often in charge of all financial reporting and projections. A career in this field could lead to a high CMA Salary in India.
Top Companies offering CMA Jobs in India
All notable organizations are looking for CMA specialists. Businesses employing CMA professionals frequently have superior financial planning when compared to those without.
So the top companies that are hiring CMA include the top four big firms:
Deloitte
EY India
PwC
KPMG
Some other leading companies where CMA professionals can work are:
Amazon
HPE
Accenture
Larsen & Toubro
Wipro
Cyqurex
FAQs:
Q1. What is the salary of a CMA in India with experience?
Ans. A CMA with 4 to 9 years of experience will typically earn 21.8 lakhs per year in salary.
Q2. What are the top skills required by a CMA?
Ans. Top qualifications for a CMA in India include:
Understanding of generally accepted accounting principles (GAAP), tax principles, and accounting fundamentals
Cost accounting: theoretical understanding and application
Outstanding understanding of financial principles
Being informed about issues like fundamental risk assessments, operational structure, and capital investment
Soft talents include writing, interpersonal skills, and presenting and communication skills.
Q3. Can CMA earn in crores?
Ans. CMA can make millions of dollars. Additionally, working as a CMA in foreign nations like the USA increases your possibility of earning millions of dollars.
Q4. Can CMA get a job easily?
Ans. Even after passing the CMA course, employment is not a given. The candidate's knowledge, skill, and exam performance will determine it entirely.
Q5. What is the US CMA salary in India?
Ans. In India, a CMA may expect to make an average of $85,000 per year in the US.
Q6. Is CMA better than CA?
Ans. We can infer that CA is superior to CMA based on potential career breadth, job demand, knowledge, and compensation.
Q7. Can CMA become CFO?
Ans. A CMA can indeed become the CFO. He must pass all three of the CFO exam levels. The CMA applicant will also find it simpler because he is well-versed in finance.
Q8. Can CMA do a tax audit in India?
Ans. No, a CMA is not a person who is authorised to conduct tax audits by section 288 of the IT Act of 1961.