The ICAI has opened its portals for the CA Final Registration of Nov 2023. The last date for registration is January 1, 2023.Students willing to enroll in the CA Final course are advised to do the registrations as soon as possible.  If you are a student who has completed both CA Inter groups and 2.5 years of Articleship, then be aware that ICAI conducts this exam twice a year. 
Candidates who are willing to apply for CA Final exam must check the eligibility criteria beforehand.
LATEST: Click here to fill out the CA Final 2023 application form before the last date.
CA Final Registration process
The CA Final Registration process is quite easy and here are the following steps to register:
ICAI official website →SSP Portal

Put in the registration ID and password.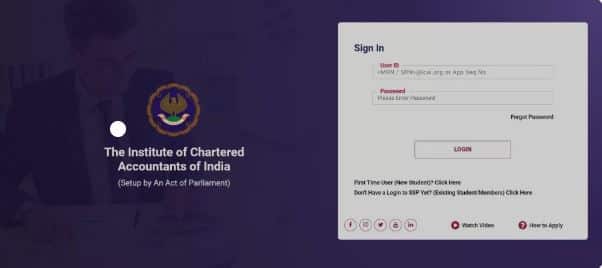 Student cycle→ CA Final course

Cross check already available details and submit the required documents.

Pay the CA Final Registration fee via Net Banking. 

Students should cross check every information that they have put in the registration forms.

In case a student has made mistakes while filling in required information, a free correction window will be available to them after a few days of completion of the CA Foundation Registration process.
CA Final Eligibility Criteria:
The ICAI sets eligibility criteria for the students who are willing to appear for CA Final examinations. Before the students sit down for CA Final registrations, they need to keep the following points in mind:
Mandatory 50% in the CA Intermediate examination with 40% marks in each subject.

Students must have completed 2.5 years of articleship training. 

Students who have passed only in the CA Foundation level, are not eligible to appear for the CA Final exams. 
CA Final Registration Fees
| | |
| --- | --- |
| Details | Fee |
| Final registration fee (for Indian students) | Rs. 22000 |
| Final registration fee (for Foreign nationals) | USD 1100 |
Note-Just Rs. 5500 is required of students from recently constituted Union Territories including Jammu, Kashmir, Ladakh, and North-East states.
CA Final Exam Dates
The last date of registration for candidates willing to sit for CA Final examination is July 1, 2023. Students have to make sure that they do not wait till the last moment and do their registrations prior to the last date of registration. 
Here is a list of the important dates that students should keep a track of :
Details

(May/ June) 2023

(November/ December) 2023

CA Final Registration last date

January 1, 2023

July 1, 2023

Exam Form

February 3, 2023

To be notified

Exam Dates

Group I- May 2, 4, 7, and 9, 2023

Group II- May 11, 13, 15 and 17, 2023

To be notified
Important Documents required for CA Final Registration :
Student signature

Passport size photograph

Attested copy of CA Intermediate exam result

Attested copy of CA Foundation exam result

Copy of special category certificate, if applicable

Nationality certificate
Credentials required for CA Final Registration
Name of the student

Parent's name

Scanned copy of CA Intermediate Exam marksheet

Permanent address and secondary address details

Student's mobile number and email address

Guardian's mobile number

Date of birth and Gender

Social category of the student
CA Final Registration Validity
The CA Final Registration is valid for a total of 5 years. A candidate is allowed to give ten attempts in these five years and in case he/she fails in doing so then they have to re-apply for the registration form.
However, in the revised CA scheme, ICAI has extended this validity to 10 years.
Revalidation steps for CA Final Course:
SSP portal→ Student dashboard

Registration to be done as an existing student

Fill in the details and submit the form online itself

Revalidation fee- ₹500
The revalidation process is no different than the registration process but the students have to clarify the revalidation date in the CA Final exam application.
Frequently Asks Question's