A Chartered Accountant's salary in India is measured in lakhs, making them one of India's highest-paid professionals. 
The expansion of the financial industry, which increased demand for and work opportunities for CAs, is the main cause of the high chartered accountant salaries.
A Chartered Accountant's annual salary range in India is between 3.6 lakhs and 12 lakhs, or an average of Rs. 8.5 lakhs. Additionally, chartered accountants can receive annual incomes of up to 50–60 lakhs based on their education and experience. The Big 4 firms and MNCs in India are two of the biggest employers of CAs. A good salary of up to INR 70 to 80 lakhs per year is also possible for CAs working outside of India.
But earning large incomes requires a lot of work and restraint. In addition, you must successfully complete your CA articleship and achieve an AIR on your first attempt. If you are interested in accounting, taxation, and finances, Chartered Accountancy is a fantastic and well-paying job for you.
This article discusses the remuneration of a chartered accountant and the major factors that affect it, including experience, skills, job description, and location. To understand more about the entire CA course as well as to acquire the full facts of the CA Course handbook, click on this link.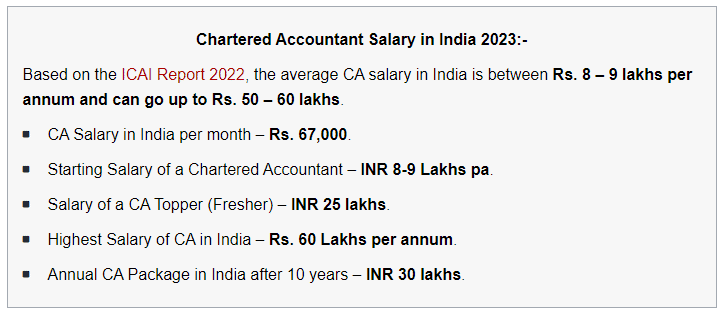 CA Salary in India 2023
Look at the table below to see what a Chartered Accountant makes on average in India:
| | | |
| --- | --- | --- |
| Particulars | Per Annum Salary | Monthly Salary |
| Freshers | INR 698.3k | INR 58,200 |
| Average Salary for Freshers | INR 804k | INR 67,000 |
| Lowest salary | INR 437k | INR 36,500 |
| Experienced (2-3 yrs) | INR 1100k | INR 91,000 |
| Highest Salary | INR 6000K | INR 500,000 |
Starting Salary of CA in India per Month
In India, a Chartered Accountants beginning salary in India is roughly INR 67,000 per month. Additionally, a Chartered Accountant's monthly salary will depend on his CA Final ranking, articles experience, employment role, and the organization he is employed.
Fresher CAs who pass their tests on their first try receive greater compensation packages between INR 12- 13 lakhs annually. Additionally, a CA topper in India receives a remuneration of INR 15 to 20 lakhs annually.
| | |
| --- | --- |
| Particulars | Salary |
| CA Final cleared in many attempts | INR 8-9 Lakhs |
| CA Final cleared in 1st attempt | INR 12-13 Lakhs |
| CA Final Toppers | INR 15-20 Lakhs |
Minimum Salary Package of a Fresher Chartered Accountant in India
In India, the starting salary for a newly qualified chartered accountant is between INR 3 and 4 lakhs annually. Candidates who have successfully passed the CA examinations on several occasions will typically receive these cheap packages. However, they can eventually earn more money if they put forth constant effort and perform well.
However, we advise you to put in more effort so that you can pass the CA examinations on your first attempt and earn a high wage.
Highest Per Month Salary of a CA in India
In India, a newly graduated CA can expect to make between $2 and 2.5 lakhs per month. Candidates who received the highest All India Rank in the CA examinations are eligible to apply. After gaining knowledge and skill, chartered accountants can make up to 5 lakhs per month.
However, overseas businesses also employ Chartered Accountants' salary from India, paying them up to INR 76 lakhs annually for their services. In addition, many chartered accountants own their own firms and make millions of dollars each year.
CA Salary Comparison Between India & Other Countries
Chartered accountants receive different salaries depending on the nation in which they work. Certain nations have greater demand for CA than others. Additionally, the wage packages are influenced by the cost of living, the value of human resources, the financial sector, and the size of the companies.
View the table below for a comparison of Chartered Accountants' salaries in India and other nations.
| | | | | | |
| --- | --- | --- | --- | --- | --- |
| Country | Fresher | Experience(4-5 yrs) | Lowest Salary | Highest Salary | Average Salary |
| India | INR 698.3k | INR 1000k | INR 437k | INR 7M | INR 804.3k |
| USA | $51.1k | $78.7k | $28k | $267k | $80k |
| Dubai | AED 100k | AED 121k | AED 27k | AED 616k | AED 119k |
| UK | £28.4k | £32.2k | £24k | £62k | £ 35.9k |
| Australia | AU$ 74.1k | AU$64.1k | AU$54k | AU$113k | AU$ 70.9 |
Chartered Accountant Salary Offered by Different Sectors in India 2023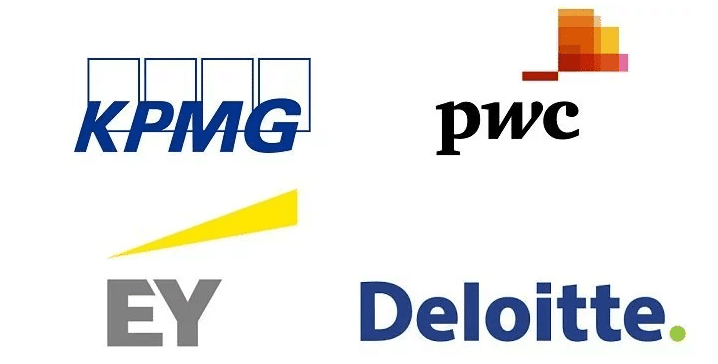 The Big 4 refers to the four largest networks of accounting firms. E&Y, PWC, Deloitte, and KPMG make up this group. They are among the largest employers in India and offer competitive CA salaries. Thousands of students put forth a lot of effort to land jobs at the Big 4 companies.
The average CA compensation offered by these large 4 organizations for new hires ranges from INR 6 to 8 lakhs annually. These organizations will, however, pay a Chartered Accountant up to INR 25 lakhs per year, depending on his capability and skill, when he gains experience and expertise.
Fresher Chartered Accountants' Starting Pay at the Big 4 Firms:
| | | |
| --- | --- | --- |
| Big 4 Firm | Least Salary | Highest Salary |
| Deloitte LLP | INR 45,000 | INR 60,000 |
| PricewaterhouseCoopers | INR 48,000 | INR 68,000 |
| Ernst & Young | INR 40,000 | INR 63,000 |
| KPMG | INR 46,000 | INR 62,000 |
Multinational Companies and FMCGs
A beginning Chartered Accountants salary in India of 18 to 25 lacs annually is provided by multinational and FMCG corporations. Since only ranking students are hired by international corporations like HUL, P&G, RB, and Marico, you must have an AIR under 50 to be considered for employment.
Along with competitive Chartered Accountant pay, you'll also receive perks and financial advantages including free transport, a leased car, lodging, insurance, and more.
CA Firms
Top CA firms often provide salaries between INR 3 and 8 lacs annually. You will gain a lot of exposure and job experience if you join a CA firm in your early years. A new Chartered Accountant can learn how to interact with clients or income tax officials here. Later, you can open your own practice and gain access to more financial benefits.
IT Companies
Fresher chartered accountants are paid between INR 8 and 10 lakhs annually by IT businesses. The annual salary for competent accountants will be around INR 50 lakhs.
The finest IT companies for CAs who don't want additional work are TCS, Wipro, and Infosys. CAs have a decent job with a nice package and a light workload in these companies. Here, the task is to boost revenue and cut costs using their knowledge and analytical abilities.
However, because it won't advance your knowledge and competence, it is frequently not favored to be an eager Chartered Accountant.
Public Sector Undertakings
PSUs give Chartered Accountants salaries in India range from INR 7 to 15 lacs annually. Although the annual increment is somewhat little, it is still a decent choice.
Many fresher CAs are hired from the ICAI campus placement by government businesses or PSUs including BSNL, ONGC, BHEL, and GAIL. These companies frequently shortlist individuals based on their scores in the range of 55% to 60%.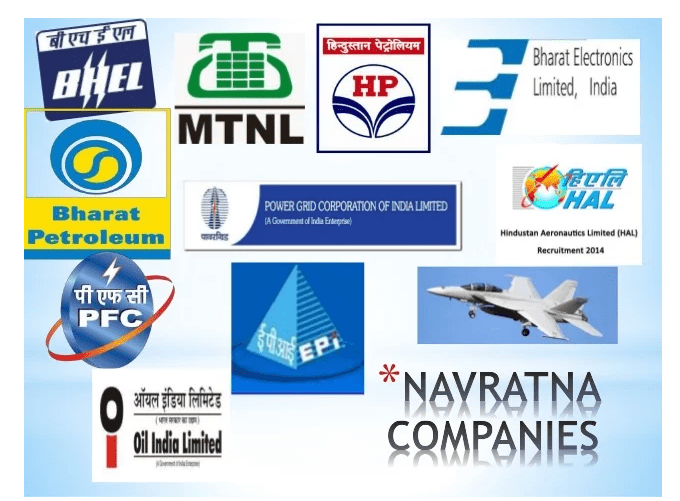 Banks
A yearly package of 8 to 10 Indian rupees is provided to CAs by Indian banks including ICICI, HDFC, SBI, PNB, and others. Chartered Accountants can work in a variety of positions in the banking industry, including analyst, financial officer, audit executive, etc.
Manufacturing Companies
Manufacturing businesses like TCS and MRF provide Chartered Accountant salaries that range from INR 7 to 8 lakhs per year. Initial packages have been observed to be modest, but growth and increments have been observed to be significant.
4 Factors Affecting CA Salary Packages in India
Many variables influence a CA's compensation and have a significant impact on the creation of their payslip. These variables include their age, education level, work history, city of residence, CA Final Score, number of tries, etc.
CA Salary in India Based on Experience
Companies place a high value on a chartered accountant's experience, both in terms of years spent and depth of knowledge. The CA's annual compensation will be influenced by the work he completed in those years.
For candidates with a minimum of five years of experience, the average Chartered Accountant's salary in India is INR 20 lakhs per year.
| | |
| --- | --- |
| CA Experience | Per Annum Salary |
| 0-5 years | INR 10-15 lakhs |
| CA salary after 10 years | INR 23 lakhs |
| 10-20 years  | INR 30 lakhs |
| Above 20 years  | INR 50-70 lakhs |
In order to receive a higher salary, it is imperative for CAs to upgrade their knowledge.
Chartered Accountant Salary Based on Skills
A CA will be paid more if he possesses analytical, compliance, and reporting skills.
A CA's typical salary exceeds INR 8 lakhs when they possess hard skills like managing a budget, strategic accounting, management auditing, financial analysis, and controlling.
The table below lists the salaries of chartered accountants in India according to their skill sets.
CA Skills

Per Annum Salary

Budget management 

INR 9.5-11 lakhs

Strategic accounts

INR 8.9-9 lakhs

Evaluation and management auditing

INR 8.5-9 lakhs

Financial analysis

INR 8.5-8.8 lakhs

Financial Advisor

INR 8.5-8.75 lakhs

SAP financial accounting and

controlling

INR 8.10-8.25 lakhs

Financial reporting

INR 8.-8.2 lakhs

Auditing 

INR 7-7.5 lakhs

Account management 

INR 7-7.25 lakhs

Internal audit

INR 7.25-7.35 lakhs

Accounting 

INR 7.25-7.35 lakhs

Tax consulting

INR 7.10-7.25 lakhs

Tax compliance

INR 7-7.1 lakhs

CA Salary in Different Job Profiles
A CA has several work prospects because of their extensive understanding in numerous financial and tax-related industries. He has the option of becoming a business analyst, financial officer, accountant, or finance manager.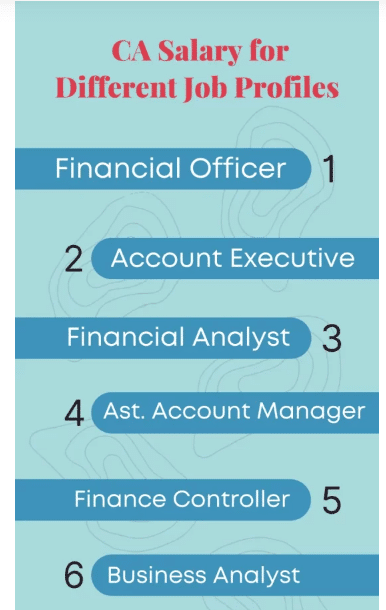 The list of salaries for chartered accountants depending on their job descriptions is provided below:
| | |
| --- | --- |
| CA Job Profile | Per Annum Salary |
| Financial officer | INR 35 lakhs |
| Account executive | INR 25 lakhs |
| Accountant | INR 25 lakhs |
| Finance controller | INR 19 lakhs |
| Finance manager | INR 10 lakhs |
| Chartered accountant | INR 7.25 lakhs |
| Financial analyst | INR 6 lakhs |
| Assistant account manager | INR 5 lakhs |
| Senior account executive | INR 4 lakhs |
| Senior Accountant  | INR 3.5 lakhs |
| Business analyst | INR 4 lakhs |
| Account Assistant  | INR 2 lakhs |
Chartered Accountant Salary in India in Different Cities
In several Indian towns, chartered accountants are paid:
CA salary in Gurgaon – INR 9.5 lakhs

CA salary in Mumbai – INR 8.8 lakh

CA salary in Chennai – INR 8.5 lakh

CA salary in Delhi – INR 7.5 lakh

CA salary in Guwahati – INR 6.2 lakh

CA salary in Punjab – INR 6 lakh

CA salary in Pune – INR 6 lakh

CA salary in Ahmedabad – INR 6 lakh

CA salary in Jaipur – INR 5 lakh
Highest Paying Companies to CA in India
As we all know, one of the highest-paying occupations in India is accounting. Numerous organizations, like Reliance, ICICI Bank, TATA, Bharti Airtel, and others, pay excellent wages to CAs. For chartered accountants, working for these organizations is the stuff of dreams.
Let's look at the businesses that offer the highest Chartered Accountants' salary in India.
| | |
| --- | --- |
| Company | CA Salary |
| Microsoft | INR 3 to 4 lakhs |
| TCS | INR 7 to 8 Lakhs |
| Reliance Industries | INR 11 to 13 LakhsLakhs |
| Infosys | INR 8 to 10 Lakhs |
Does the Number of CA Exam Attempts Affect the CA Salary?
You might believe that getting your dream income in the first years will be difficult due to your rank. It's true, but with perseverance and intelligence, you can reach the level you deserve.
Many individuals who have attempted the CA Final twice or more began their careers with one of the Big 4 organizations with starting packages of only INR 6–8 lakhs, but over the course of 4-5 years, they have maintained a strong position and seen an increase in their average income to INR 24–25 lakhs annually. In addition, a lot of candidates quit the Big 4 organizations within a year owing to the excessive work demands.
How Can You Earn a High CA Salary in India?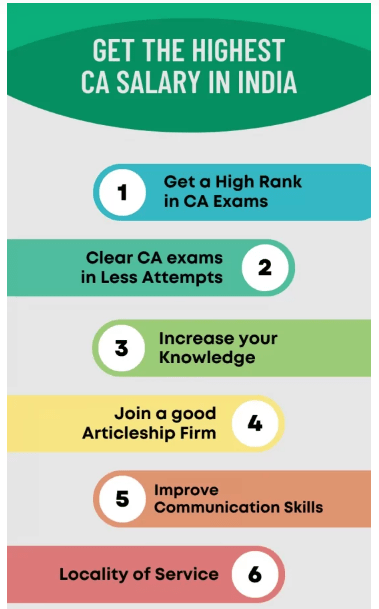 1. Get a High Rank in CA Exams
If you perform well on the CA Final exams, you will have a higher chance of receiving an attractive annual package. If a chartered accountant earned an All India rank in the CA Final exams, they would receive an annual salary of between INR 20 and INR 25 lakhs.  In addition, you can apply for positions at the top 4 enterprises and large corporations.
2. Clear CA exams in Fewer Attempts
A candidate can still make a respectable monthly income even if he or she does not receive an All India rank but passes the CA examinations in one or two attempts. Chartered Accountants would undoubtedly receive remuneration of 14 to 15 lakh rupees with less effort, according to recruitment insights from the leading CA firms in India.
The Big 4 firms and other CA firms both accept applications.  You could also submit an application to PSUs or government-run companies, which shortlist candidates depending on how many times they have passed the CA exam.
You can enroll in the Lecture Kharido to improve your chances of passing the CA exams. Seven times, Lecture Kharido students have received the top overall position in India.
3. Master Financial Accounting and Analysis
Your primary responsibilities as a CA will be keeping track of the books of accounts and developing budgets and statements. So, learn how to record, manage, and analyze financial statements in order to gain useful insights. For this, you might enroll in online courses from trustworthy mentors. You might also imitate industry leaders to learn how they operate in their positions.
4. Learn Microsoft Excel
Any CA should be fluent in Microsoft Excel because it can be used to store, organize, and evaluate financial data. Additionally, a lot of businesses require that the CAs have a fundamental understanding of Excel. As a result, you can use online classes that are readily available on the web to learn Excel and apply it to your regular tasks.
5. Join a Good Articleship Firm
Your CA articleship experience will have a significant impact on your salary in the first few years. Therefore, we suggest all students work harder and sign up with a reliable articleship organization. Do not skip or select a bogus articleship. You will stand out from the competition because of your articleship experience.
6. Make Your Communication Skills Strong
Good communication skills imply your ability to present your ideas in meetings confidently. If you can communicate well, it will help in your interviews to get shortlisted. And also will help you to gain promotions in the long run. ICAI is also providing a communication course that you can pursue.
7. Locality of Service
Your income will also be influenced by the city or state in which you work. While the pay is minimal in tier 2 cities like Jaipur and Ahmedabad, some tier 1 cities, like Mumbai and Delhi, provide substantial CA packages. Therefore, picking a business with headquarters in a metropolis (tier 1) city is an excellent choice.
What are the Income Sources for CA Other than Salary?
Apart from salary, the other income sources for CA are:
Consultation Fees – CA who offers consultation services gets the fees. This fee will be based on the time duration of the consultation or based on the specific tasks.

Commission – Companies reward CAs with commissions when they provide solutions to specific financial issues, such as preparing merger books or presenting strong books to attract investors.

Bonus – CAs that perform well and help their employers make more money receive a bonus in addition to their compensation.
7. Locality of Service
Your income will also be influenced by the city or state in which you work. While the pay is minimal in tier 2 cities like Jaipur and Ahmedabad, some tier 1 cities, like Mumbai and Delhi, provide substantial CA packages. Therefore, picking a business with headquarters in a metropolis (tier 1) city is an excellent choice.
Earnings of a Practising Chartered Accountant
Based on their ability to attract wealthy clientele, CAs who open their own practice can make a good living. A practising chartered accountant typically earns between INR 20 and 22 lakhs per year. Additionally, he can easily make around INR 50 lakhs a year if he attracts significant clients. However, a practising CA typically makes at least INR 10–11 lakhs per year.
Obtaining well-paying clients can help practising CAs generate a reliable income. A practising chartered accountant typically earns between INR 20 and 22 lakhs per year. Furthermore, he can easily make around 50 lakhs rupees a year if he attracts clients with large budgets. However, the annual minimum salary for a practising CA is somewhere between INR 10 and INR 11 lakhs.
FAQS:
Are CAs rich in India?
Yes, a lot of CAs are employed by big businesses or have opened up their own practices, and they make a lot of money.
Can a CA earn in Crores?
Yes, a CA can make millions of dollars by holding executive roles in huge businesses or dealing with high-end clientele.
Are Chartered Accountants the Highest paid professionals in India?
Indeed, the highest-paid professionals in India are chartered accountants. A CA's annual compensation at the top end can be between 60 and 70 lakhs.
Who earns more Doctor, CA or Lawyer?
When salary, education, work, and length are considered, CAs make more money than doctors and lawyers.
Which industries pay high salaries to CA in India?
Accounting, financial services, banks, IT & consulting, and construction are the top-paying sectors for CAs.
Which CA has the highest salary in India?
The Chartered Accountant with the highest salary in India is Kumar Mangalam Birla.
What is the salary of a CA in Delhi?
The typical CA pay in Delhi is INR 8,25,000 annually.
What is the CA salary in Mumbai?
The typical annual compensation for a CA in Mumbai is INR 8,80,000.
Why are CA aspirants wasting 5, 6 or more years under so much pressure when the average CA salary is just 7 to 8 lakhs?
Students should be aware that a CA fresher's income typically ranges between 7-8 lakhs. Their beginning salary will be between 15 and 20 lakhs if they are able to obtain an AIR and pass the examinations in one or two attempts. Additionally, even though the starting package for a CA is modest, the career progression & income are very high.
Do those who clear the CA exam on the first attempt earn more salary?
Yes, applicants who pass the CA examinations on their first attempt make more money. They could receive a yearly package of Rs. 13–15 lakhs.
Is it tough to become a CA?
Yes, being a chartered accountant is challenging. The three levels of the CA exams, which are regarded as the most challenging exams in India, must be passed.
Which has better salary CA or CMA?
While CMA only deals with Management Accounting, CA deals with Accounting, Auditing, and Taxation. Due to CA's ability to cover a broader region, the demand for it continues to be significant. Because of this, a CA makes a high income. Click on the link for a more detailed comparison between CA and CMA 
Read More : (https://lecturekharido.com/ca-vs-cma/).